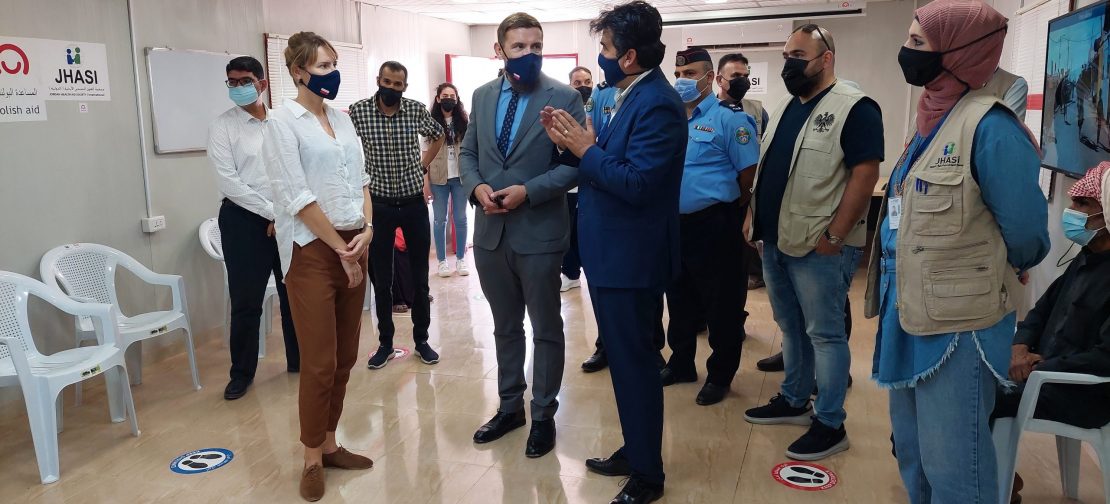 The Ambassador of Poland launches the Cancer Screening AI project in Zaatari Camp
On Monday (09.08.2021) the Ambassador of Poland, H.E Lucjan Karpiński visited the Polish Medical Training and Consultancy Center in Zaatari camp to launch the Cancer Screening Project for Refugees funded by Polish Aid and implemented by JHAS. The project uses latest technology of Artificial Intelligence to help in early detection or enhancement in health.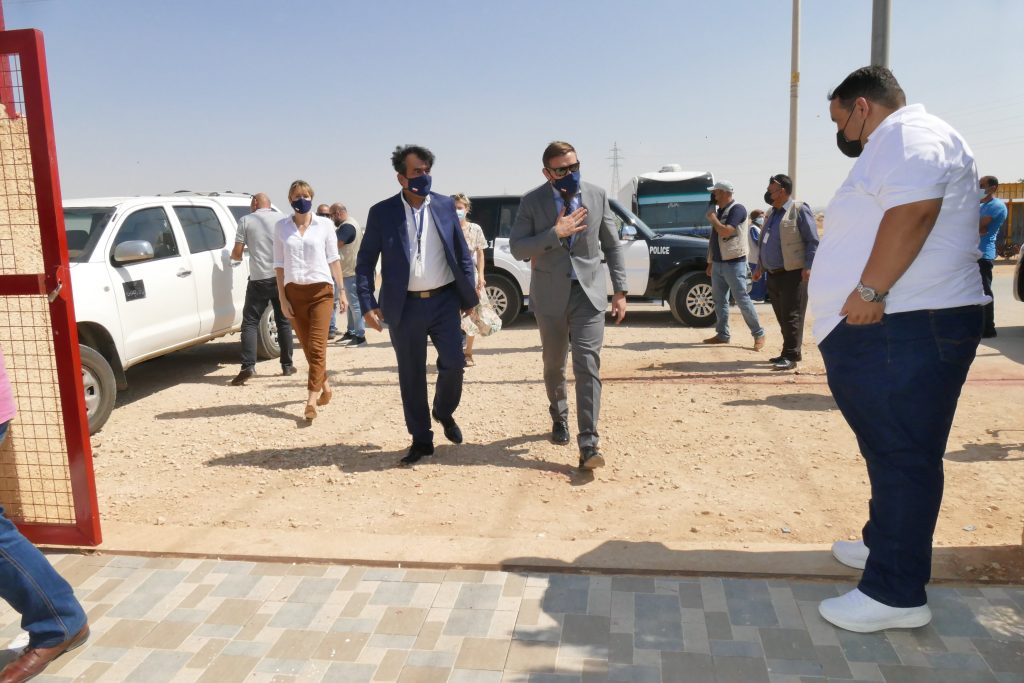 "It is always a nice moment when Poland can present its support to the people of Jordan and the refugees that are so generously hosted here" – says H.E Ambassador.
"In Jordan we have been working primarily in the healthcare sector as we want to ease the burden on Jordan's national health service caused by number of patients and COVID-19 pandemic. Our project deliver added value to existing mechanisms and provide vital support for the needy. Cancer is a universal public health problem. We know that early diagnosis of cancer is important for patients so they have the best chance for successful treatment. " – says H.E Lucjan Karpiński.
In the region the number of cancer cases  is growing at an alarming pace. The Gulf States and the Eastern Mediterranean Region (EMR) countries show a disturbing rise in the number of cancer patients. Long-term projections show that, by 2030 there would be a 1.8 fold increase in cancer incidence. In Jordan according to the latest statistics of the Jordanian Ministry of Health, the cumulative number of registered cases of breast between 1996 and 2014 registered in Jordan was 13,899 cases and the recent registry report indicated that cancer rates in the Kingdom are "alarmingly" high.
"In this project we will use the first multi-cancer screening panels to harness the power of artificial intelligence to improve the accuracy and usefulness of affordable tumor marker test to help identify 6 or more types of cancer. Based on commonly ordered tumor markers such as PSA, CEA, AFP, CA-125 and others, AI algorithm can aid in the early detection of many types of cancers, including those not typically screen for such as lung, liver, pancreas – says Dr. Yaroup Al-Ajlouni, president of JHAS.
 "Today Poland collaborates with JHAS on a number of projects to serve the Jordanians and refugees and their families. This partnership is one that we really value to have been part of in the past, and upon seeing the achievements, we are determined to continue to supporter today and in the future." – says H.E Lucjan Karpiński.
Ambassador Karpiński during his visit at Zaatari Camp also met with the representatives of the UN agencies that are performing a remarkable activity in support of the refugees.
Poland's commitment in Jordan and the Middle East:
The Middle East has been one of the priorities of Polish humanitarian assistance for many years now. We are aware that all the actions taken to strengthen the political stability and security must be followed by a fast and coherent reaction to humanitarian crises that tends to be deeper, more complex and last longer. There is no chance for stabilization of the region without consistent and unhindered humanitarian aid.
Poland from the very beginning of the ongoing crisis in Jordan's neighborhood is present in the region, providing necessary humanitarian aid to the refugees as well as local population in countries hosting them. For instance, in 2019 both via multilateral and bilateral channels Poland provided humanitarian assistance for the Syrian refugees in Jordan, Lebanon, IDPs in Iraq and hosting communities, as well as Yemenis IDPs amounting to ca. PLN 71 million / ca. EUR 17,7 million.
In 2021 Poland's humanitarian response will also be focused on the region. In addition to abovementioned our goal this year is to address problems created by COVID-19 pandemic and mitigate its consequences. This year we support bilateral humanitarian projects run by Polish NGOs in health and shelter sectors.
In Jordan we work primarily in the healthcare sector as we want to ease the burden on Jordan's national health service caused by number of patients and COVID-19 pandemic. Embassy of the Republic of Poland in Amman together with our partner JHASi runs currently two important projects focused on local community – Maternity Mobile Medical Unit and Cancer Screening for Refugees in Zaatari Camp. Both these projects will deliver added value to existing mechanisms and provide vital support.
In addition we delivered in recent months to our partner organization UNHCR 300 units of Refugees Housing Units that will be used in Zaatari and Azraq refugees camps and if needed in other locations in Jordan. The value of this project is ca. EUR 1 million.
Despite the humanitarian crisis in Syria and neighboring countries, Poland does not forget about the plight of the Palestinian refugees in the West Bank and the Gaza Strip. Since 2007, Poland has supported UNRWA with the amount of over 4 million USD.
Besides regular yearly contribution to UNRWA budget, Poland supports residents of UNRWA refugee camps also with bilateral projects, implemented by Polish NGOs in cooperation with local partners. E.g. in Burj el-Barajneh in Beirut Polish Humanitarian Action established a training centre for women and young people to give them trainings on modern technologies like 3D printing or robotics and to increase their chances on job market.
Poland notices with great concern the worsening situation of refugees due to pandemic COVID-19 and the increasing responsibility of donors and aid agencies. Therefor we assigned additional support for UNRWA with 1 mln PLN (ok. 0,26 mln USD) for providing Palestine refugees with necessary daily services.